PRODUCT DESCRIPTION
Manufactures and supplies Union is for mud tanks, mud tank connecting lines and pump suction flanges. These are manufactured for a maximum line pressure of 150 PSI. The nitrile seal provides compressive seal, the crosssection of the seal designed to provide greater sealing surface. The Union is designed to take a maximum of 7° misalignment on the pipe. Sizes which are catered for are 6", 8", 10" and 12", 6", 8" and 10" sizes can be socket welded to pipe or butt welded to tubing. 12" size requires butt weld.
Features
• Elongated cross-section of seal ring ensures greater sealing surfacewhen in contact with the pipe
• Makes up with hammer
• Molded nitrile seal provides a compression seal
• Tank Union accepts up to 7° pipe misalignment
• Available in 6, 8, 10, and 12 inch sizes
• 6", 8", 10" Unions may be socket welded or butt welded to piping. 12" Unions require butt-weld only
• Large diameter, medinm-low voltage and frequently dismantling, rapid installation.
Technical parameter:
1. Medium available: mud, oil, water
2. Medium temperature: 0°C~90°C
3. Ambient temperature: -30°C~50°C
4. Medium presssure: 0.6Mpa
Three-piece
SIZE (IN)

6"

8"

10"

12"




INCH

MM

INCH

MM

INCH

MM

INCH

MM

A (CLEARANCE RADIUS)

6.25

159

7.50

191

8.50

216

9.75

248

B (OUTSIDE DIAMETER)

7.88

200

9.88

251

11.88

302

14.00

356

C (END TO FACE)

4.38

111

4.38

111

4.52

115

4.52

115

D (SOCKET WELD DEPTH)

0.38

9.5

0.38

9.5

0.38

9.5

0.38

9.5

WEIGHT (LBSF)

22

31

37

50

WEIGHT (KGF)

10

14

16.8

22.7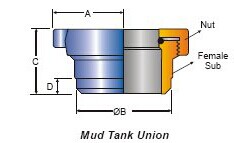 Four-piece
Type
(in/mm)

A
(mm)

B
(mm)

C
(mm)

D
(mm)

E
(mm)

F
(mm)

G
(mm)

Material

4" (102)

300

50

168

150

135

170

160

Casting Steel

6" (150)

350

50

219

200

194

170

160

Casting Steel

8" (200)

400

50

273

253

248

170

160

Casting Steel

10"(250)

450

50

325

305

304

170

160

Casting Steel

12" (300)

510

50

355

357

358

170

160

Casting Steel